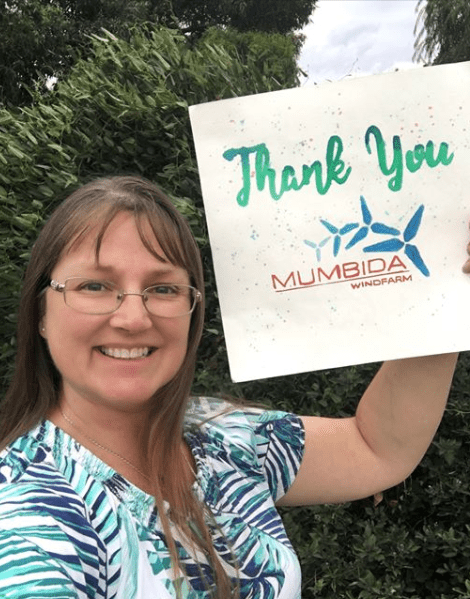 Education scholars win top honors in 2020
The Mumbida Wind Farm Scholarships are part of the Hollomby Foundation's scholarship program, supporting students studying through the Geraldton Universities Centre (GUC)
The scholarships provide financial assistance to students of Australia's Mid-West region
The Mumbida Wind Farm is proud to announce the recipients of their 2nd annual scholarship program, awarded to students pursuing tertiary education through the Geraldton Universities Centre (GUC).
The scholarships benefit students studying courses through GUC partner universities at the Centre's Geraldton campus.
This year, education students topped the two respective scholarship categories. Tania Littely who is completing a Bachelor of Education (Primary) at CQUniversity (CQU) was awarded the Mumbida Wind Farm Scholarship (Open), worth $5,000. She achieved the highest overall score of all of the 44 applicants.
Malcolm Maloney, also studying Education (Primary) at CQU was the primary winner of the Mumbida Wind Farm Scholarships for Indigenous students, which he shared with Jaide Morgan who is studying social work, also at CQU. Malcolm and Jaide respectively were granted $4,000 and $3,000.
Other Open Mumbida Wind Farm Scholarships valued at $1,000 were awarded to CQU students, Emily Gee who is studying secondary education, Kirsty Harper who is pursuing psychological science studies and University of Southern Queensland (USQ ) nursing student Zoe Wright.
Director of Mumbida Wind Farm, Hugh Webster said it was a privilege to play a supporting role in the education of the region's future bright and talented leaders alongside the Hollomby Foundation.
"We warmly congratulate all scholars who have demonstrated excellence and commitment in their education pursuits, and are building a stronger future for the region by staying local and studying through the GUC," he said.
In 2019 the Mumbida Wind Farm pledged $150,000 over ten years to support the Hollomby Foundation, the charitable body established to advance tertiary education in the Mid-West region through the GUC. Mumbida Wind Farm's donation provides annual Indigenous and open student scholarships that comprise financial assistance to GUC students.
The Hollomby Foundation which administers the scholarship program in partnership with patrons and donors purposefully spread the scholarships wider this year given the financial hardships on students and their families caused by COVID-19.
Hollomby Foundation Chair and GUC Secretary, Yvonne Messina, said the Hollomby Foundation scholarship program continues to grow as a community pillar for GUC and the region.
"We are grateful to the Mumbida Wind Farm and all our donors for supporting our students in what for many will be a difficult year. These scholarships are a vital part in ensuring quality education remains a steadfast focus across the Geraldton region and that students are rewarded for their effort and community spirit," she said.
Notes:
Recipients
2020 Mumbida Wind Farm Scholarships for Indigenous students
$4000 – Malcolm Maloney – Bachelor of Education (Primary) CQU
$3000 – Jaide Morgan – Bachelor of Social Work CQU
2020 Mumbida Wind Farm Scholarships (Open)
$5000 – Tania Littely – Bachelor of Education (Primary) Tania received the highest overall score for all scholarship applicants. CQU
$1000 – Emily Gee – Bachelor of Education (Secondary). CQU
$1000 – Kirsty Harper – Bachelor of Psychological Science CQU
$1000 – Zoe Wright – Bachelor of Nursing USQ
About the Hollomby Foundation
The Hollomby Foundation is Geraldton Universities Centre's philanthropic body dedicated to the advancement of tertiary education in the Mid West region. The Foundation supports the GUC and Mid West students through its endeavours to increase academic opportunities, facilitate a thriving university presence, and provide direct financial support to students and their families. Established in 2019, The Hollomby Foundation was named in honour of the late Joe Hollomby. Affectionately known as "the Shortbread Man", Joe baked, distributed and sold thousands of batches of shortbread and apple pies over nearly 20 years, earning more than one million dollars for charity.

About the GUC
The Geraldton Universities Centre (GUC) is an independent, not-for-profit, incorporated body, supporting university courses in Geraldton on behalf of partner universities including CQUniversity, the University of Southern Queensland and Curtin University. The GUC's unwavering objective is to facilitate access to university education for people residing in the Mid West by providing high quality online experiences accompanied by local face-to-face support.